Whether you want to save money on your Amazon EC2 bills or you want to turn spend into greater processing power while you work. CMM puts you in control.
A software tool to Cut AWS Bills by up to 94%
By spending only on the servers you use, when you use them. Simple.
CMM saves you money and reduces waste by optimising the usage of your cloud servers. For many companies using cloud servers on Pay-As-You-Go, they will pay for the servers 24/7 despite only using it at certain times of the week.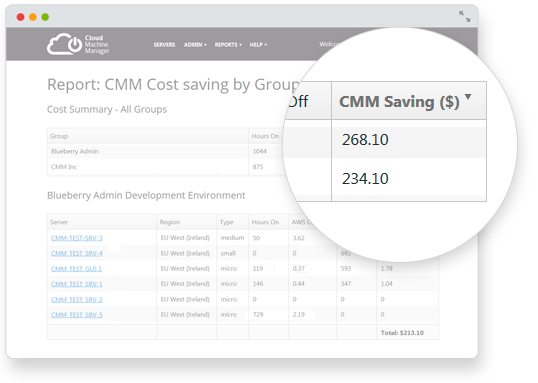 For an average office that only operates for 9-5/5.30, there is a huge amount of wastage, especially if the servers are left on over the weekend. The wastage might be even higher for a development company that only use the servers for a few hours a week.
Make AWS Servers Only Work When You Do
The rush for cloud computing is largely being driven by the need for flexibility, agile infrastructure and speed. Often cloud computing costs more than traditional on premise provisioning.
But while cloud providers like Amazon Web Service are keen to push the pay as you go message, the truth is that higher than expected bills and mounting costs are weighing down businesses and project managers.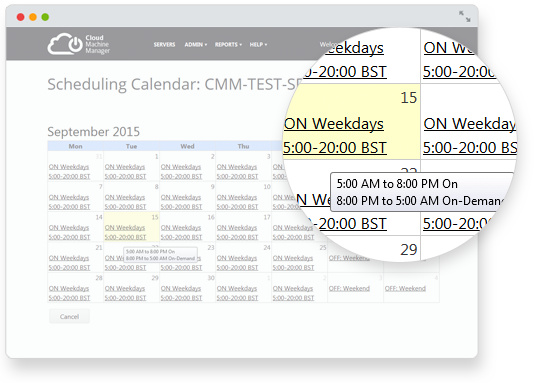 The overspend is largely due to the way that IT has traditionally been taught in school right through to how IT departments behave. Developers want kit – and lots of it. Typical IT projects in the past have been Step 1; buy lots of computing power. Step 2; buy lots of computing power to provide redundancy, test environments and back up systems.
CMM, gives users an alternative. CMM allows you to provision enough computing power when you need it, but a simple, easy-to-use switch on/off mechanism to allow you only to provide the computing power you need, when you need it.
So in short. CMM saves you money.
See how much you could save with a free trial: